WHY BE A PHYSICIAN AT THE WOMAN'S CLINIC?
PHYSICIAN-OWNED, OB/GYN BOARD-LEAD CORPORATION OPERATING SINCE 1952
OB CALL AT ONLY ONE UP-TO-DATE AND MODERN HOSPITAL
DAY SHIFT CALL - 1 IN EVERY 6 DAYS
NIGHT/WEEKEND CALL - 1 IN EVERY 11 DAYS
MENTORING PROGRAM FOR PHYSICIANS
NICHE GYN PRACTICES AND SURGERIES
ONSITE MAMMOGRAPHY & ULTRASOUND
ONSITE PRIMARY CARE PROVIDER
IN-OFFICE PROCEDURES WITH ANESTHESIA
INDIVIDUAL HALL NURSE AND SURGERY NURSE FOR EACH PHYSICIAN
IN-OFFICE SCRIBE AVAILABILITY IF REQUESTED
COLLABORATIVE PROCTORING IN SURGERIES
ONSITE HISPANIC TRANSLATING IS AVAILABLE
ONSITE LACTATION CONSULTANTS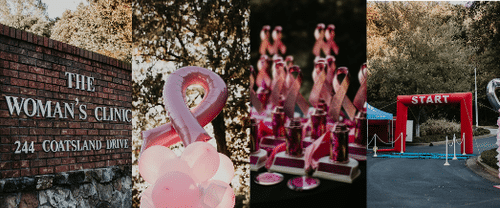 The Woman's Clinic takes pride in what we give back. We have a fund called Take Your Girls Night Out through the West Tennessee Healthcare Foundation that provides financial assistance to West Tennessee women currently battling breast cancer. We help women with their bills and medical expenses. Each woman receives up to $1,000 in financial assistance. Our biggest fundraising event for this fund every year the 5K we host right here at the clinic. Runners from all over Tennessee come to support our cause.
One of our senior physicians, Dr. Brad Adkins, and our COO, Jon Ewing (as well as 50 other men) cycle on the Ride 2 Rosemary every year which raises money that goes to the West Cancer Foundation through the West Clinic in Memphis, TN toward cancer research.
We are also big advocates for women's heart health. We strive to make sure our patients are aware of the importance of heart health for women. We are able to perform EKG's and cardiovascular genetic testing in the office, and we discuss the importance of a healthy diet as well as have our own diet plan called "Why Weight?". Dr. Adkins and Jon Ewing also cycle on the Heart Ride every year which raises money for Go Red For Women. They travel 220 miles to raise awareness and spread the word. Our Primary Care Nurse Practitioner, Christin Gray will serve as the 2023 West TN Go Red For Women Chair as well.
We support bereaved mothers in the office. We have nurses who are certified Bereavement Counselors. We also participate in the Twilight Run hosted by Heaven's Cradle which is a local organization that provides comfort and assistance to families suffering perinatal loss.
Another physician, Dr. Lane Williams went on a medical mission trip to Brazil where he washed the feet of children and fitted them for shoes.
Some of the partners at the Woman's Clinic serve on various boards. Dr. Keith Micetich serves on the Council of Chiefs, Dr. Ryan Roy is Chairman of Credentialling, and Dr. Chris Rickman is the OB/GYN department chair at the local hospital.